Planning on moving to Columbus, Ohio in the coming months? For those who are new to the area, it may come as a surprise that the city comprises a high number of neighborhoods — each with its own style and personality. Individuals who are looking to relocate to a trendy, culturally-rich community should definitely consider Columbus's Short North neighborhood. Known as a thriving arts district, Short North is located between West 5th Avenue to the north and Convention Center Drive to the south. Interstate 670 intersects the area, making travel throughout the area a breeze.
If you've been exploring
Short North real estate
, get excited to reside amongst a host of arts and culture attractions. Want to discover some of the best strategies for experiencing your new neighborhood to the fullest? Check out the top 10 ways to enjoy the arts in Short North.
Mona Lisa mural
As you will quickly discover, Short North overflows with art-related attractions. If you are looking for a no-cost way to appreciate local art, be sure to check out the Mona Lisa mural. Located near the intersection of North Pearl Street and Cedar Alley, this large-scale painting can't be missed.

Entering the alleyway, you'll be greeted by a sideways mural of the Mona Lisa. Taking up the entire back of a building, this is easily one of the most impressive pieces of art in the neighborhood.
Sharon Weiss Gallery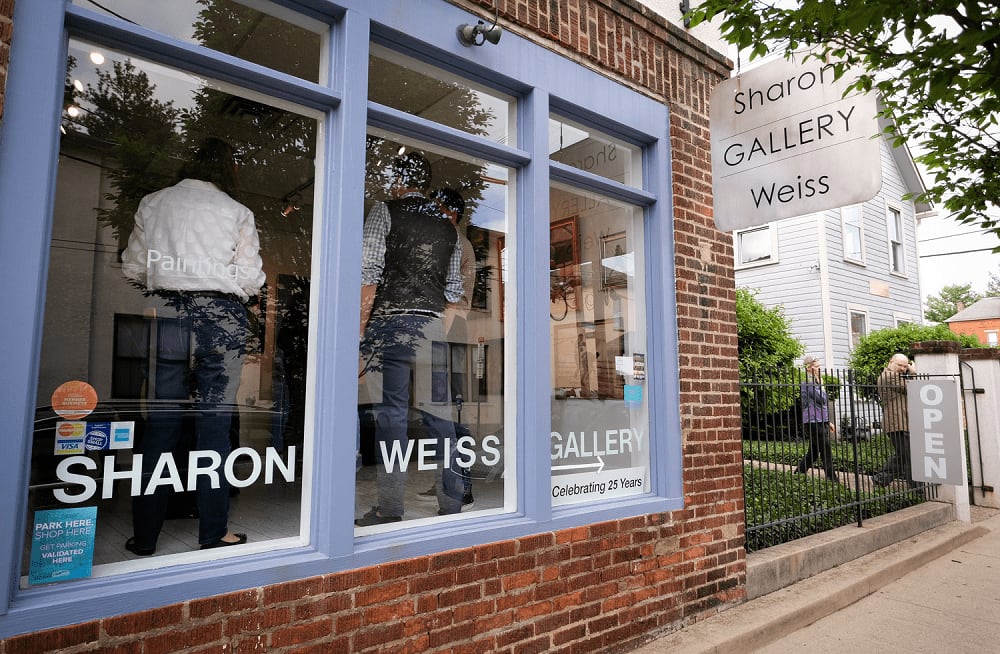 Image courtesy of Sharon Weiss Gallery

Head over to East Lincoln Street to peruse the pieces at the Sharon Weiss Gallery. As one of the community's top-rated galleries — open for almost 30 years — this spot is a must-see.
Visitors of the
Sharon Weiss Gallery
have the privilege of viewing unique and enchanting artwork. The owner, Sharon Weiss, has handpicked artists to be featured in the gallery, with a focus on painters. Everything from realism to impressionism is represented. The vast majority of featured artists are either from Ohio or have ties to the state. However, painters from around the nation provide art for the gallery. The Sharon Weiss Gallery is open Thursday through Sunday.
Pizzuti Collection of the Columbus Museum of Art
Directly across the street from the picturesque Goodale Park is the
Pizzuti Collection of the Columbus Museum of Art
. Stately and historic, this art museum is a not-for-profit gallery that showcases artwork from around the globe. Visitors can tour engaging exhibits that feature sculptures, paintings, and abstract pieces. Thanks to the frequent rotation of exhibits, there is always something new to see.

Current and past exhibits include the Wonder Room (branded as a one-of-a-kind experimental gallery), The Art of Bryan Moss, Through Vincent's Eyes: Van Gogh and His Sources, Alice Schille, and the American Watercolor Movement, and Roy Lichtenstein: History in the Making, 1948–1960.
Goodale Park
Although not an art-specific attraction, Goodale Park is an awe-inspiring place to soak in the beauty of nature. Located across the street from the Pizzuti Collection of the Columbus Museum of Art, this is a marvelous place to visit before or after your tour of the museum. It is also an excellent spot to recharge when gallery hopping.

The landscaped park features breathtaking views of the Columbus city skyline. Visitors can also take in views of several park sculptures and landmarks (including a stunning water fountain).
Sean Christopher Gallery
North High Street is a hub for exceptional art galleries in Short North. One of these galleries is the Sean Christopher Gallery. Since March 2002, this gallery has displayed alternative artwork in its rotating exhibits. Each season, 8-10 shows featuring Ohio-based artists are held. The Sean Christopher Gallery is located at 815 N High St Ste h & n and is open Wednesday through Saturday.
Sherrie Gallerie
Another premier High Street gallery is the Sherrie Gallerie. Known for its process-based contemporary art exhibits, visitors can view an impressive collection of glasswork, art jewelry, ceramics, wood, and more. Exhibits rotate monthly, giving locals a reason to visit on a frequent basis. The gallery has been open since 2004 and routinely attracts a wide range of visitors to its location at 694 N High St.
(Not) Sheep Gallery
Boasting one of the most unique names of all of the galleries in Short North, (Not) Sheep Gallery, located at 17 W Russell St., has instant appeal. More important than its name, it is one of the most highly-rated fine arts galleries in the entire neighborhood. With an exceptional reputation for its featured exhibits, it is no surprise that locals adore this locale.
Emergent Art and Craft
Promoting inclusivity and creating a safe space for all artists to thrive, Short North newcomer Emergent Art and Craft is rapidly becoming a resident favorite gallery. Open since 2020, visitors of this gallery have the opportunity to purchase fine pieces across a variety of mediums. Paintings of all styles, jewelry, home decor, ceramics, and more are available for purchase. You can find Emergent Art and Craft at 14 E Lincoln St.
Arnold Statue
Part tourist attraction, part work of art, the Arnold Statue is something everyone in Columbus needs to see at least once. As one might be able to guess, the Arnold Statue depicts a young and very muscular Arnold Schwarzenegger. Getting a picture by the statue has become a rite of passage for visitors and residents alike.
Greater Columbus Convention Center

Image courtesy of meetusincolumbus.com

In addition to Short North's unparalleled art scene, the Greater Columbus Convention Center further enhances the neighborhood's offerings. Conferences and events of all kinds are hosted here every month of the year. As a new resident, staying up-to-date on the Convention Center's calendar of events is a great way to attend unique shows and gatherings.
Find Short North homes for sale
About to begin the process of finding your perfect home in Short North? Rely on the expertise of local Real Estate Agent
Wayne Woods
. For years, Wayne has devoted his career to helping individuals find exceptional properties throughout Columbus.