Columbus is a richly diverse city. A beautiful stitch-work of vibrant urban districts and upscale suburban enclaves, the homes, and neighborhoods throughout the region offer a luxurious lifestyle unlike any other in the Midwest. Regardless of where you traverse, from Bexley to German Village to Upper Arlington, the landscape is the most spectacular visual across the neighborhoods.


With lush, green lawns, towering canopies of mature trees, and flowers, bushes, and shrubs full of color and fragrance, Columbus is a genuine treat for all of you senes. To live in this city is to own one of these magnificent parcels of land and care for and curate its tones and textures and maintain its vibrancy season after season.


Unfortunately, Ohio winters can take their toll on even the best-manicured yards. Sometimes seasonal growths can lose their luster, or once favored outdoor architectural elements fall out of trend. Maybe you're just ready for a change in your landscape's scope and appearance, or you want to boost your property's value before listing it for sale. Whatever the reason, it's never a bad idea to enhance your home's curb appeal.


Would-be buyers are drawn to immaculate exterior landscapes. It's often what they'll use to base their overall opinion of your home — even after touring the inside. From the lawn to the foliage, the flowers, and even the drive- and walkways, if something is amiss, it can negate a buyer's interest and your home's value.


First impressions matter that much in real estate. Especially if you aim to sell your home immediately, your property's exterior condition is often the difference between a lucrative sale and less than stellar offers.


In fact, a study from The Journal of Real Estate Finance and Economics estimates that a home's curb appeal may account for 7% of its sale price. For a $750,000 home, that translates into more than $52,000, which is a considerable amount of money for keeping up the lawn.

If you want to spruce up your outdoor space or seek to improve aesthetics and value ahead of a listing, let's look at five ways to boost your home's curb appeal this spring.
Stick to the basics for excellent curb appeal
Simple methods quickly transform an outdoor space into a comfortable, highly appealing space. It requires no more than a weekend to address — simply mow, edge, and weed the lawn. Cut back unwieldy tree limbs and trim shrubs. Rid the yard of any debris and lay fresh mulch where necessary.


Although quickly completed by an enthusiastic do-it-yourself type, hiring a professional lawn service will save time and ensure consistency to your outdoor spaces throughout the spring, summer, and fall months.


Sure, it's straightforward, but a well-maintained yard adds so much class and uniformity to a home it's difficult to quantify fully. When emerging from an Ohio winter, few things are better for your lawn than a clean-up and fresh start to the season.


Adopt a "less is more" mantra to get the most from this straightforward approach. Concentrate on uncomplicated tasks, and avoid busying up your yard with too many focal points by over-planting flowers or installing one too many planters or yard sculptures. A clean, well-manicured yard is often the best method for enhancing your curb appeal and is always the easiest to maintain.
Enhance the landscape without over-engineering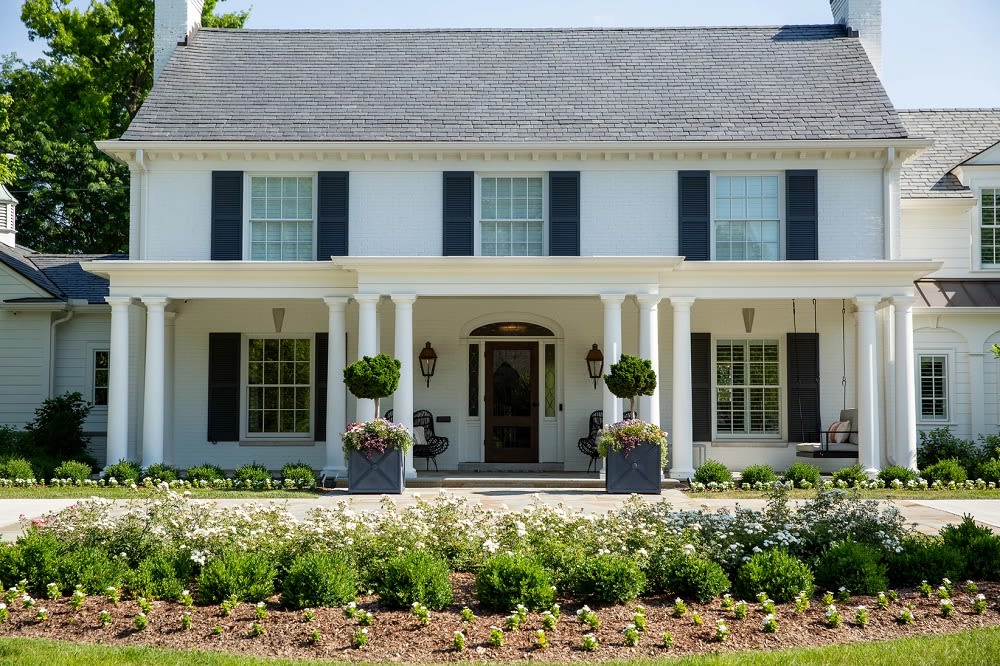 Beyond the fundamental underpinnings of simple landscaping that looks great and is easy to care for, you want those natural elements to accentuate your home's best features. That same less is more approach applies, but you can do it while also adding vibrancy and pops of color.
When assessing the addition of seasonal accents, select palettes which pair well with your home's facade and complement the exterior's overall aesthetics. A professional landscape service will guide you in choosing plants and seasonals ideal for your yard's soil type and complement the existing trees and shrubs.


Note that it's easy to get carried away with "accessorizing" your yard. Add too many accents, and you risk over-engineer the landscaping. Too much of any one element leads to unforeseen issues:
Excessive foliage results in a reduction of sunlight to areas of your property.

Too much growth from one or two plants can suffocate the development of others.

Overly complex landscapes and layouts can prove too much of a burden as they are both costly and time-consuming to maintain.
The more you attempt to beautify your yard, the more that can go wrong.

Don't neglect the landscape's structural and utility components. Deteriorated fencing can detract from an otherwise well-kept yard. Inadequate drainage is hard to miss wherever it may be on your property and is a red flag to potential buyers.

Remember, your landscaping isn't just one or two items — it's all of them combined. From the trees and shrubs to the grass and mulch with the fencing leading out to the walkway — when contemplating ways to boost your home's curb appeal, assess the landscape as a whole. Determine which areas require additions or removals, decide if an overhaul is necessary, or choose to leave an area as-is. A fantastic outdoor environment is cohesive and complements the home it serves.
Be mindful of the home's exterior facade
Curb appeal is more than just the natural elements. Even immaculate yards lose their luster when cast against a drab, tired home exterior, and it's not difficult to spot the homes that are poorly maintained.

In older homes (but possible at any age), a dwelling's facade fades after years of encountering the elements. A few of the issues you might face include:
Paint fading on siding or stucco

Dirt or moss buildup on stone and brick

Foggy, stained, or hazy windows (typically from moisture penetration)

Rusted or debris-filled gutters

Dilapidated garage doors

Cracked, chipped, and stained drive- and walkways

Rotting wood on posts or railings or rotting trim around doors and windows

Loose shingles or roof discoloration
Don't overlook the rear of the property. Patios, decks, pools, outdoor kitchens, and structural elements such as pergolas, fireplaces, or fire pits all face their own level of scrutiny.

When addressing your home's physical structure, determine where the greatest needs are, and invest your time and resources in those. Most locations around your home will only require superficial attention — power washing the facade, windows, driveway, and walkways is often all the attention your home needs.

When it comes to more urgent repairs, prioritize those that can do more harm if left alone. For example, rotting trim or broken gutters may lead to water intrusion, drainage, or foundation issues. Fix those items first to beautify your home and keep more severe problems at bay.

Also, some areas may benefit more from a replacement versus a fix. Replacing high ROI items like your garage door, front entry, windows, or siding, will boost your home's value and curb appeal.
Enhance the lighting scheme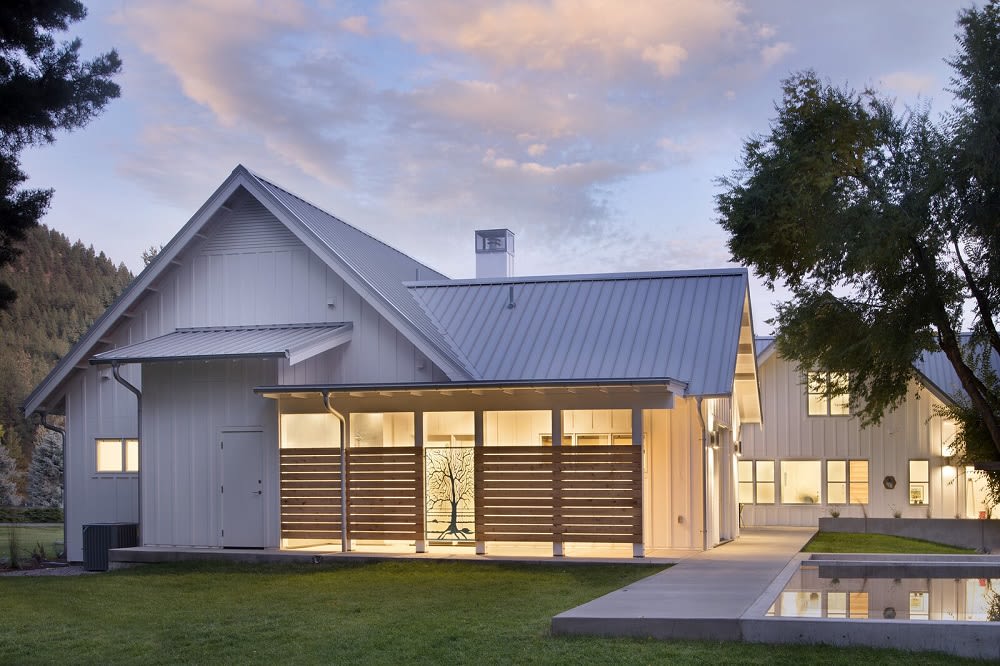 Lighting is the unsung hero in enhancing your property's curb appeal. Most critically, lighting is a wonderful security feature. The better lit your home, both front and back, the less likely it is to be a target for unwanted visitors.

A prominent lighting scheme also provides your home with undeniable warmth and drama. Installing lights along walkways, around patios, in plant beds, and at the base of trees provides a house with a stunning level of illumination that would-be buyers would love to claim as their own. Similarly, upgrading your lighting at the rear of the home improves your home's outdoor entertaining areas.

Lighting isn't just a nighttime aesthetic. Architecturally attractive fixtures for your front porch or post lighting will enhance daytime curb appeal. This is even more true if your house has a distinctive design style, such as the Tudors found in Upper Arlington or the mid-century moderns in Bexley.
Don't overlook small, but meaningful intangibles
Finally, don't overlook small details that significantly impact your home's exterior appeal. While you might have HOA regulations or community rules on uniformity, a handful of "less is more" elements can elevate an exterior without the need for wholesale changes.

For instance, is your home lacking in flower beds? Potted seasonals on a patio or along a walkway add an extremely low-maintenance pop of color.


Do your prominent trees have a barren base or exposed roots? Build a tree well and, if not detrimental to the tree's health, fill it with mulch or decorative landscaping rocks.

If you want to truly pinpoint the finer details of your home's curb appeal, replace those items that don't matter until they do (in other words, when they're noticed by someone other than you). This includes your mailbox, door hardware like knobs, doorbells, door knockers, and house numbers. Again, some theses might fall under neighborhood standards, but every element counts in the pursuit of improving your home's curb appeal.
Ready to explore the best of Columbus real estate?
Contact Wayne Woods today
to start your home buying or selling journey. From Upper Arlington real estate to German Village homes for sale, allow Wayne and his years of experience and expertise to be your guide to Columbus' luxury real estate market.